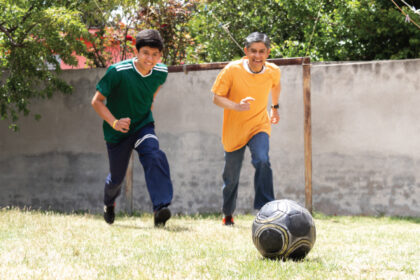 "It is not what you do for your children, but what you have taught them to do for themselves, that will make them successful human beings."
The above quote by Ann Landers, who was an American advice columnist, speaks for every parent in the world. It is the responsibility of every parent in the world to feed their precious child with the right thoughts, to nurture them in the positive atmosphere because one of the most important things that history has taught us that a person is greatly influenced by his surroundings.
It doesn't matter what career a child chooses for himself, parents must always provide their full support and motivate him to achieve great things.
Mould your surroundings into a positive atmosphere
As soon as a child is born, he becomes a part of the world. His surrounding starts to have effect on him. The atmosphere starts to feed him with different energies that surround him. The same energies that manifest themselves into our basic nature will also become the part of his character. That's why it is imperative to raise your precious child in the positive environment. Abhimanyu, the son of great warrior Arjuna, learned the art to break the Chakravyuh when he was still inside the womb of his mother. Whatever the source of that information which passed on to Abhimanyu, there is no doubt that the environment played its part in that mythological moment. So raise your child in an environment where positive energies dwell in the surroundings.

---

Parents- The first Teacher
Before a child steps into the school for the first time, his mind has already crossed the first development phase of his mind. That's why the parents act as the first teacher in the life of a kid. The Childhood is the biggest learning phase where a child captures and learn new things everyday. A child will most probably become a "Problem Child" if he is raised in a home where parents act exasperatedly with each other. So quite inadvertently, parents are acting as a teacher who is teaching their kid all the good or the bad things.Even after great Thomas Edison was sent back home by his teacher for being too naive and dumb, he became one of the greatest inventor the world has ever seen and that is because his mother taught him the way a good teacher should teach a student. Imagine if his mother would have beaten him or got really angry at him for being too imbecile, the world would not have been the same, that's for sure. So treat your kid the way a kid should be treated and teach him the way a kid should be treated.

---

Parents- The most powerful Motivator
One the greatest footballers of all time Ronaldo famously proclaimed the impact that his mother had on his life. Her tenacity and her audacious approach instilled him with a never give-up attitude. There is nothing in this world that can make the parents more proud than to see their children flourish, earning a name for themselves and rise to the top of the world. Motivation can certainly play its part in that great achievement. They say that words can never be destroyed and they always come back in the form of thoughts. Good words will certainly infuse hope and bad or negative words will most probably make him feel pessimistic about his abilities. That's why choosing the words wisely can have a great impact on his subconscious mind and can motivate him in the time of difficulties. It's not all about the bright sunshine in the life but we need to prepare ourselves for that moment of adversity when motivation and inspiration can be our best friend.

---

Parents- The best support that they can hope
What about supporting your child at every tiny step that he takes in his life. No we are not talking about helping him to walk. We are talking about supporting him in his decisions and in his career choices that he chooses. We all know that every parent want the best for their kids but sometimes our act of defiance may harm them more than we can think as far as the career of your child is concerned. So whether your child is good at studies or sports or any other field, it is the responsibility of every parent to support them and provide them enough hope and inspiration to succeed in life.

---

Set aside time to play together
This can be fun, a lot of fun. We know it's hard to squeeze out even one hour from your tight schedule but if a little time together with your precious kid can help him in the development then this sacrifice is undoubtedly worth taking. This fun activity with your child can even help you get rid of unwanted exasperation and who knows you may even end up act like Luis Van Gaal for your kid and help him find some flaw in his technique. After all there goes a saying that "There is a coach in everybody" and you don't need to coach Barcelona FC to become the Pep Guardiola for your child.

---

Help your child take charge of his learning and Sports
Mind develops faster during the early years of a child. So even if your child makes mistakes it's certainly not the end of the world provided he is taught the importance of learning from the past mistakes. In this amicable way you will be incorporating a pragmatic approach in your child and he will start using his own perception of looking at things differently. Without being scared of getting punished for his mistakes, he will soon look at his mistakes in a more meaningful ways and will become his own teacher. There is no harm in that we are pretty sure about this.

---

Discipline Gently
Understand what the child is communicating directly or indirectly by his attitudes and behaviours. A major aspect of the parent's role is to establish and maintain order in family by requesting a certain level of discipline. Always have a calm reaction, respond consistently, appropriately, and sensitively and gently give a corrective feedback to your child when his behaviour is inappropriate. A calm and emphatic talk helps children become conscious of their mistakes. An upset reaction increases the tendency of child to defend him. You have to do what is best for your children, rather than overlook their ways of behaving in order to meet your need for silence. Practice a gentle but firm style of discipline.Set boundaries and limits to control the children, impose ground rules and standards if you want to cultivate a good will. Build your authority, take charge and when limits are transgressed, issue ultimatums, enforce discipline and impose consequences. Don't provide approval, praise or rewards when child's behaviour is inappropriate. Also parents' duty is to warn their children to set aside games and TV until homework is finished. If you want to master the art of gentle discipline you have to acquire effective parenting techniques.

---

Help your child take charge of his learning.
Guidance is very important for an aspiring player when he is at the start of his journey but interference at every step about little things will certainly block the development of his instincts and mind. He may even become the person who always seek a helping hand.We want to keep children in charge of their learning and become responsible for it. We want them to be responsible for their successes and failures, show them how engaging learning is, and that the motivations for learning should be the child's intrinsic interests, not an external reward.

---

Keep a balance between school and sports.
While you may want him to devote more time on his studies than he may be doing right now, always remember that pushing him to do anything against his wishes can thwart his progress even if it about his passion which may prove to be perilous for his self-confidence. So be judicious about how much you let or urge your child to do something. That's why it's imperative that you infuse him with the stories of successful people who managed to keep a balance between many important things. Therefore, monitor your child to see that he is truly enjoying what he is doing. If he isn't, cut something off the schedule.

---

Keep Media to a minimum
You can't imagine a kid not watching a TV or using a phone or tablet these days but you can certainly restrict him to a particular pertinent content on the screen like sports shows or matches of his favourite game. Set some rules about digital media and other leisure activities and make sure they are followed voluntarily. Letting him spend hours on digital media and watch content other than his favourite sport will certainly be a utter waste of time. That's where balance comes handy. School work and studies can most probably take the extra time he spends on digital media and on other unproductive activities. The sooner he learns to manage his time, better it will be for him and sooner he will be ready to achieve big things in his life.

---

Be a student yourself, Learn something new everyday
There is an old saying that "You are never too old to learn something new". Most people only act as a reader and never implement the knowledge of the words into their lives. Changing your attitude towards your surrounding and people may resolve this issue. Set an example for your child that learning is an art and anybody with a positive attitude can learn a new trait at any point of their life. There's nothing far more soothing sight than seeing a real-life example. You can be that person for your child. So indulge in the sports activities with your child and there is a very good chance that you may end up learning something new. It can even help your ward substantially as he may find a new competitor at home and he may discuss few things with you about the game which will only create a healthy and a sporty atmosphere at the home.To make your child successful in sports, besides hard work there are lot of other things which will play a part but if parent is persistent in their effort then the child has a higher chance of success in sports. History tells us that. This is why at Xdrona we believe that
"It is not about the Talent but it is about the Parent."