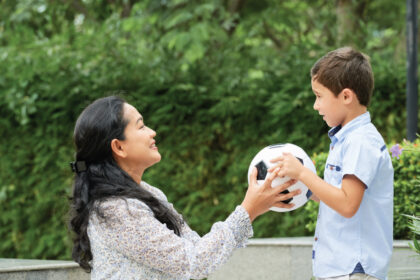 It's well known that playing sports is good for children both physically and socially. Fitness goals, social skills, and learning what it means to be part of a team – these are just a few of the benefits that come with starting sports at a young age. Parents of youth sports athletes know this first-hand already. But what these parents may not know is just how important their role is in their young athlete's development.
As their main mentors, parents play an important role in the development of their kid's athletic abilities. Parental influence can affect a kid's health, life skill development, and ability to cope with winning and losing in life.
Being a successful parent involves a fair bit of amateur psychology – after all, you have to lead a complex individual through the turmoil of childhood and adolescence and hope they come out alright on the other end. There are a number of strategies parents can use to help their kids succeed in youth sports. But just involvement itself on the parent's end can make a critical difference.
Parents should be continuously trying to create an environment that will nurture the development of their sons/daughters. This includes:
Supporting Your Child's Team & Coach
Learning about the sport your child is playing/interested in
Watching and listening about practices and games
Providing positive feedback after games and training.
A positive role model will go a long way to cementing your child's love for the game and will create a good atmosphere for the child to grow and develop at his/her own time.
Remember, your kids watch everything you do. That means they see your reaction to life, and will inevitably model their behaviour around yours. Creating a positive family culture when it comes to sports participation is vitally important. The way you behave will influence their own behaviour on the field.
Begin this positive influencing right from the start of the season. Discuss your family's core values and remind your kids what is important in life. These values should reflect how they behave in sporting activities.
As a example to this, there are many athletes who are devout religious people and attribute their success to God. The Williams sisters always used to attribute their wins to Jehovah (Their God) and would candidly speak about how growing up in a religious family helped them maintain their focus and core values. Most recently, Olivier Giroud, Francés all time goalscorer in football attributed his success to his Christian Beliefs. These are but two mere examples as to how a positive childhood with strong parent influence and strong core values can lead to ultimate success.
But it is not simply core values or religion that have an influence. The parent must also be willing to sacrifice his/her time and place the interests of the child above anything else. Lets take some examples of this:
The aforementioned Williams sisters were coached and trained from a young age by their father; Richard Williams. The same very father sacrificed everything and shifted from the east side of USA to Florida to help his daughters pursue their tennis career. This ultimate sacrifice by the father paved the way for the Williams Sisters to become the Tennis Legends they became.
Other examples closer to home in India can also be seen and appreciated. Abhinav Bindra, born in Dehradun is but one of 2 Olympian Individual Gold medalists India has ever had but his path was all but easy. To assist in his childs development his father built a shooting range in his backyard so that Abhinav could practice om a daily basis. We are not telling you to build a shooting yard if you cant but the lengths that parents go to help their child is part and parcel of why the child succeeds later on in life.
Another example can be Saina Nehwal, widely considered one if Indias finest Badminton players. Her father took out massive loans to provide the adequate training for Saina to achieve her success and even had to wake up during early hours of the morning to take her daughter for coaching, 30 kms away. Her success in Badminton can be partly attributed by the role her parents played in guiding her and helping her both on and off the court; the rest as they say would be pure talent!
So as we have seen, Parents play a massive role in the development of their children and their future careers in the sport. Please do remember though that as a parent, you should work on managing your own expectations so you can avoid putting too much pressure on them.
Remember, as parents of youth sports athletes, your primary role is to encourage happiness and confidence in your kids. You are not them, and your goal is to make sure they succeed. This approach will translate into passionate kids with a healthy mind-set.
"ALL KIDS NEED IS A LITTLE HELP, A LITTLE HOPE AND SOMEBODY WHO BELIEVES IN THEM."– Magic Johnson